Nikon will release the interchangeable lens "NIKKOR Z 28mm f / 2.8"
Z-mount wide-angle single focus lens compatible with 35mm full size (FX format). It has been decided that the "NIKKOR Z 28mm f/2.8 (Special Edition)" with a different appearance will be released separately on November 19th.
The Special Edition that appeared earlier is characterized by adopting MF Nikkor lens-like styling as a kit lens for the action camera flashlight "Nikon Z fc" designed with the film camera "Nikon FM2" in mind. When combined with the APS-C sensor Z fc, the angle of view is equivalent to 42mm in the 35mm format.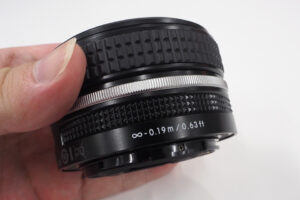 Specifications
Specifications related to shooting performance are the same as the Special Edition. The lens configuration is 9 elements in 8 groups (including 2 aspherical elements). The shortest shooting distance is 0.19m. The minimum aperture is F16. The filter diameter is 52 mm.
By adopting a "multi-focus method" that links multiple AF drive units, the speed and accuracy of AF can be improved, and natural depiction can be obtained even for subjects at close range.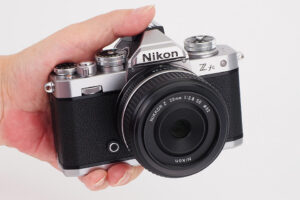 The maximum diameter x total length is about 70 x 43 mm. Weight is about 155g. The Special Edition is about 71.5 x 43 mm and about 160 g.
NIKKOR Z 28mm f / 2.8 features
Full-frame compatible compact and lightweight single focus lens with high-cost performance that allows you to enjoy rich bokeh expression on a daily basis
■ Brightness with an
open F value of 2.8, soft bokeh expression Large with an open F value of 2.8 and a shallow depth of field Taking advantage of the natural bokeh, you can make the main subject captured with high image quality stand out impressively. Especially when shooting from a close distance, you can enjoy the bokeh expression unique to a bright single focus lens. In addition, the bright lens allows you to set a faster shutter speed, which is also effective in reducing blurring during handheld shooting, so you can easily enjoy snapshot shooting that takes advantage of high image quality.
■ Adoption of aspherical lenses with non-spherical curved surfaces on one or both sides can effectively correct various aberrations such as distortion (distortion aberration) and spherical aberration. Distortion is an aberration (image distortion) that occurs because the magnification differs depending on the image height (distance from the center of the image) when the subject forms an image through the lens. It can be corrected by changing. In addition, since one aspherical lens can obtain the aberration correction effect equivalent to multiple spherical lenses, it greatly contributes to the miniaturization and weight reduction of the lens compared to the spherical lens.
■ Wide-angle single focal length 28mm that is easy to use for snaps and dynamically captures space The focal length of 28mm is a favorite angle of view for street snap photographers because it can express powerful space by taking advantage of its wide angle of view and perspective. It is useful in a variety of scenes, from casual scenes of landscapes and street corners to taking table photos at cafes.
■ The focal length that is easy to use for Nikon DX-format Z series camera users
When the Nikon DX-format Z series camera is attached. The focal length is equivalent to 42mm (35mm format equivalent). And it can be used as a standard focal length lens that is easy to use in a wide range of scenes. Lenses in the standard area are highly versatile and can be used in a variety of applications, from close-up photography to impressive portraits that take advantage of bokeh and snapshots of street corners.
■ Minimum and lightest that maximizes the mobility of Nikon mirrorless cameras * 1 With
a single focus NIKKOR Z lens that matches the compact Z series camera, which was possible because of the short flange back of the body Z mount system. The smallest and lightest * 1 wide-angle lens. With a mass of approximately 155g and a length of approximately 40mm * 2, the image quality unique to a large-diameter Z mount is achieved while reducing the size and weight of the shooting equipment, making it easier to carry around. You can enjoy high-quality shooting at any time.
* 1: For NIKKOR Z lenses for single-focus interchangeable-lens mirrorless cameras released as of November 18, 2021
* 2: From the reference surface of the lens mount to the tip of the lens
■ Excellent proximity with a minimum shooting distance of 0.19 m Distance performance The
shortest shooting distance is as short as 0.19m, so you can get a powerful image by getting closer to the subject. Even everyday snapshots and familiar scenery can be upgraded to attractive works just by taking pictures. Not only table photos that you want to boldly depict the main subject. But also dynamic shooting that makes use of background blur and perspective, you can express as you want.
■ Multi-focus method
An AF drive method that strictly controls the positions of multiple focus groups. With high accuracy by linking multiple AF drive units. By adopting the "multi-focus method. The speed and accuracy of AF can be improved and at the same time. Natural depiction can be obtained even for subjects at close range. Which are generally considered to be prone to aberrations.
■ Dust-proof and drip-proof design
Dust-proof and drip-proof design with sealing to prevent dust and water droplets from entering *. You can enjoy shooting with confidence without worrying about the weather.
(* We do not guarantee complete dustproof and drip-proof under all conditions.)
■ Adoption of electromagnetic aperture mechanism A
diaphragm blade unit with a drive mechanism is mounted on the lens body. High-precision aperture control is possible with an electric signal from the body side. Stable exposure control (AE) is always possible even during continuous shooting.
■ High video performance in pursuit of ease of use that allows you to shoot videos comfortably
Not only do you get the same outstanding resolution and. Large soft bokeh as still images, but you also pursue ease of use in video shooting. Demonstrates high video performance. AF realizes further noise reduction. It also supports focus breathing and is equipped with a "control ring". That allows the smooth setting of aperture, ISO sensitivity, and exposure.