Air conditioning is a critical component of any industrial facility. Whether you are operating in an office or manufacturing plant, air conditioning ensures that employees and machines work at their best potential. Air conditioners need to be installed in the right place to maximize cooling efficiency.
Whether you need to cool one room or an entire factory, the right industrial air conditioning maintenance can make all the difference in your bottom line. However, there are some considerations that you should keep in mind before deciding on which type of system to install.
What Are the Two Common Types of Industrial Air Conditioner Installations?
There are two common types of industrial air conditioner installations: rooftop and ground-level HVAC units.
A rooftop unit can be installed on top of any building with a flat roof

Ground-level units require significant excavation and foundation work for installation. 
If you are thinking about installing an industrial air conditioner, consider the size and layout of your building to decide which type would be best for installation. Also keep in mind that if you choose a ground-level unit, it may require regular industrial air conditioning maintenance from a qualified electrician.
Importance of Industrial Air Conditioning Maintenance
If you own or work in an industrial facility, you know that the environment is not always comfortable. Industrial facilities typically have high ceilings and concrete floors. These features make it very difficult to maintain a comfortable temperature throughout the day and night because there is no natural airflow through the building. Air conditioners are designed for these spaces and can be installed anywhere in your industrial facility for increased comfort. That is why proper air conditioning maintenance is equally important.
Industrial air conditioning maintenance is an important issue because if your system fails, you could lose thousands in equipment downtime which will cost you more than any electrical bill would. Knowing where to install an industrial air conditioner is crucial so it is able to cool the whole building efficiently.
What to Consider When Choosing an Industrial Air Conditioner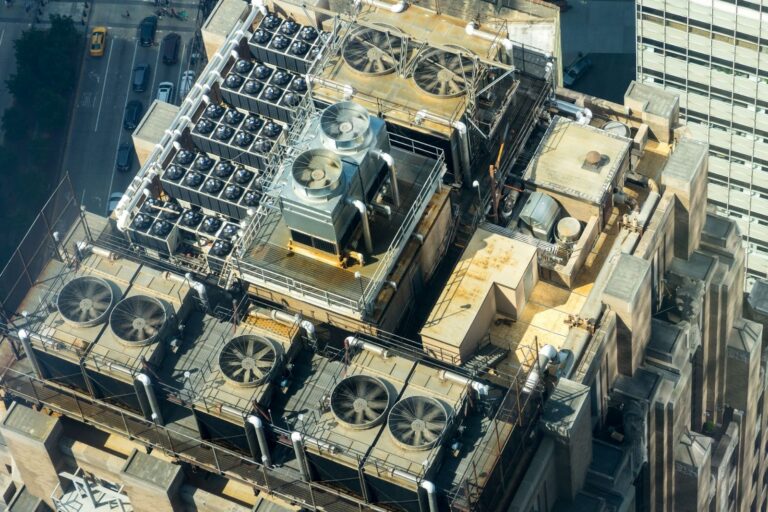 When choosing an industrial air conditioner, you need to consider the facility's layout and climate. If your building has a flat roof, a rooftop unit is the best option, as it is easy to install and does not require any additional construction work. However, if your building has no flat roof or a very sloped roof, a ground-level unit may be more suitable. Ground-level units are also better for facilities in hot climates, as they can discharge heat directly into the surrounding environment.
However, before deciding on either type of installation, you should consult with an industrial electrician near me to ensure that your electrical system can support the additional load. Additionally, you should consider whether your facility has enough space to install a ground-level unit.
Don't forget to consider the cost of installation and maintenance when making your decision. Rooftop units are typically more expensive to install than ground-level units, but they require less regular maintenance. Conversely, ground-level units are less expensive to install but need to be regularly serviced by a qualified industrial technician. By considering all these factors, you can choose the air conditioning solution that is best for your industrial facility.
Where Do You Need Industrial Air Conditioning?
This is a question that many people ask themselves when they need to install an industrial air conditioner. The answer to this question depends on the type of facility and what it does. If your business deals with heavy machinery, such as manufacturing plants, then you will want to install an industrial air conditioner near these machines so that they run more efficiently and reliably. Air conditioning maintenance is also important for any type of facility because not doing so can lead to major problems down the road!
Also read: Significant Tips to Ace Your Assignment
The Bottomline
When choosing between rooftop or ground-level installations, make sure to take into consideration all factors including the cost. While both types have pros and cons depending on the location, as long as they are well maintained by an experienced professional then either option will work!
All facilities should also consult with an experienced solar power technician especially if you have a solar setup. Each case is unique, so it is important to get an expert's opinion or visit our website to ensure that you are making the most cost-effective and efficient decision for your industrial facility.